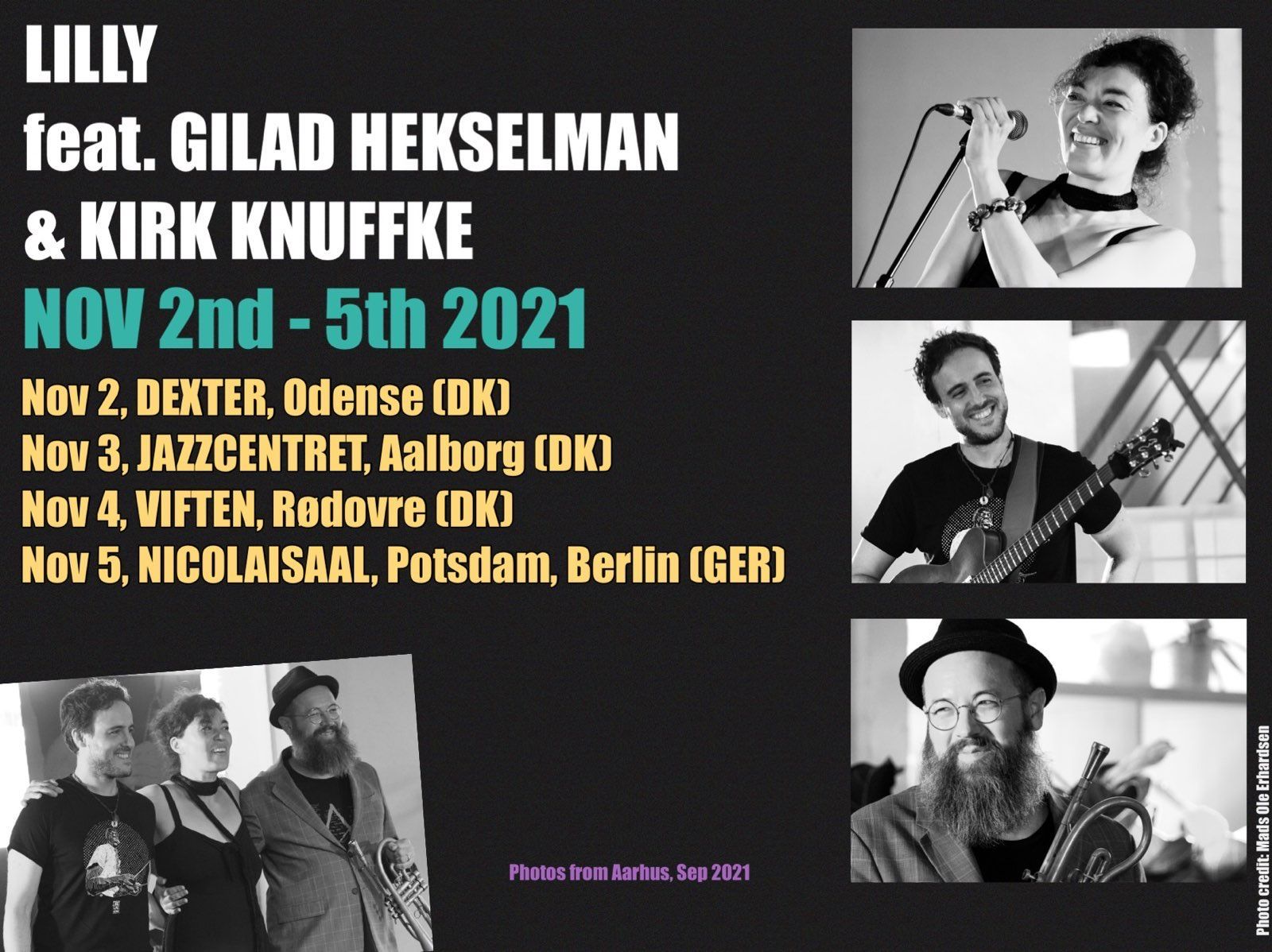 NEXT WEEK…Nov 2 - 5!!🎶🍁💥🔥 
✨ LILLY feat. GILAD HEKSELMAN & KIRK KNUFFKE ✨ 
💥 Nov 2, DEXTER, Odense 
💥 Nov 3, JAZZCENTRET, Aalborg 
💥 Nov 4, VIFTEN, Rødovre 
💥 Nov 5, NICOLAISAAL, Potsdam, Berlin 
After five wonderful concerts in DK in September, Gilad and Kirk, will be back for the part 2 of the postponed releasetour for the album, The Song Is You, that was released by Challenge Records/Double Moon in spring. 
I hope to see you!! 
Much love, 
Lilly ❤️ 
Here below are a few words about the album that was very wellreceived by the press. More info at https://www.lillysongs.com/news 
"Authenticity, intensity and nerve" / 
GAFFA ⭐️⭐️⭐️⭐️⭐️ 
" her interpretations offer an emotionally deep, truthful view, due to which these standards thus become her own songs" / Jazzthing, Germany 
""Fresh interpretations of the great American songbook" / Politiken ❤️❤️❤️❤️ 
" LILLY: The Song is you | 
Charming, fresh and airy, but also profound and full of delicate power, that's how the music of Lilly sounds. 
(…) Lilly has taken the title to heart. She becomes one with these jazz songs. The singer has created very personal interpretations together with the Israeli guitarist Gilad Hekselman and the US cornet player Kirk Knuffke. Hekselman in particular becomes a perfect one-man orchestra on the album: rhythm, harmony, even melody and atmosphere, he delivers all this with brilliant ease and pithy grounding. Kirk Knuffke's cornet adds a tastefully tense tonal spice. A lively, extremely appealing album is what Lilly's "The song is you" has become. A discovery worth making!" 
/ Bayerisher Rundfunk -Klassik/Jazztime 
"Lilly tells with her warm voice and  her heartfelt expression that she is able to give these immortal songs, which have been recorded thousands of times, something deeply personal" / Tor Hammerø, Nettavisen & Tor de Jazz, Norge