TENDERLY (feat. GILAD HEKSELMAN), 2017
"

Ella Fitzgerald and Joe Pass set the bar high for guitar-vocal duos. Danish singer LILLY (-Ann Hertzman) and guitarist Gilad Hekselman touch that bar with Tenderly"
"Ella Fitzgerald and Joe Pass set the bar high for guitar-vocal duos. Danish singer LILLY (-Ann Hertzman) and guitarist Gilad Hekselman touch that bar with Tenderly."
Wow! The line above is just the first one in an incredible review/article in All About Jazz by C. Michael Bailey. Reading it made me have goosebumps, smile and feel very grateful at the same time. Furthermore, his article was released on May 9 2018 over a year ago and I had not heard about it until the other day, when I was very kindly notified about it by the founder/Publisher of All About Jazz, Michael Ricci, as he thought it might be of interest for me. Oh, my...he was right! I hope you will all find it worth reading too somehow. Here are some other extracted lines from it:
" The pair reveal an immediate potent and intimate rapport, one that allows for a broad latitude of interpretation of their chosen material in such a way not to obscure the original melody, instead enhancing it in a very modern way".
"Lilly sings with ever so slightly an accent which supercharges her performances increasing it sexual appeal and allure".
"Hekselman's exacting playing enhances this. On Nick Drake's dark "Voice from the Mountain" Hekselman summons primal tones from his guitar, like that of a garage rock trooper making his way. The pair build dramatic momentum gradually, then allowing it to ebb. The one foreign language piece on the disc, "Hvem Kan Sejle" is paired with the Mancini/Mercer "Whistling Away the Dark" bolstering the Weimar comparison, the music and singing being decadently rich, like dark chocolate. This disc has much to endorse it. More standards from Lilly are in order."
Link to the full article is here beneath as well as a screenshot of the part of the article about my album, Tenderly, which is among seven women-releases that C. Michael Bailey starts by describing as: An embarrassment of riches...
https://www.allaboutjazz.com/php/article.php?id=563286
"

Gentleness and gentility at its best"
Jazz Weekly, a jazzmagazine based in California, has a very nice review in their March issue. I am grateful and happy for it all, and for being mentioned as a FEMALE VOCAL GEM among such great company of singers like Kate McGarry, Madeleine and Sunny Wilkinson !✨ ?? 
"Vocalist Lilly does an impressive collection of cozy duets with guitarist Gilad Hekselman" (...)  


"Her voice is warm and calm, and she feels completely relaxed in this setting, using space as a sound..." (...)  


" Hekselman delivers dainty intros like flowing drapery on a glistening "Skylark" and sparkling "Day Dream" while some creative pedal work creates a pastoral "You're Everything. Gentleness and gentility at its best."  
Here is at link to the review: http://www.jazzweekly.com/2018/03/female-vocal-gems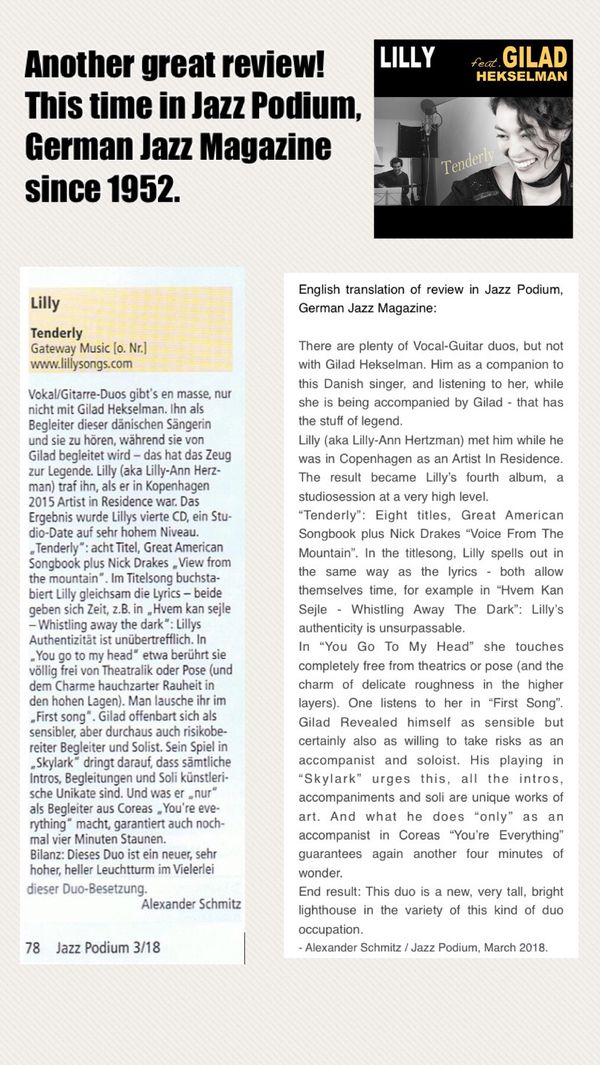 BEFORE THE CROSSING (2005)