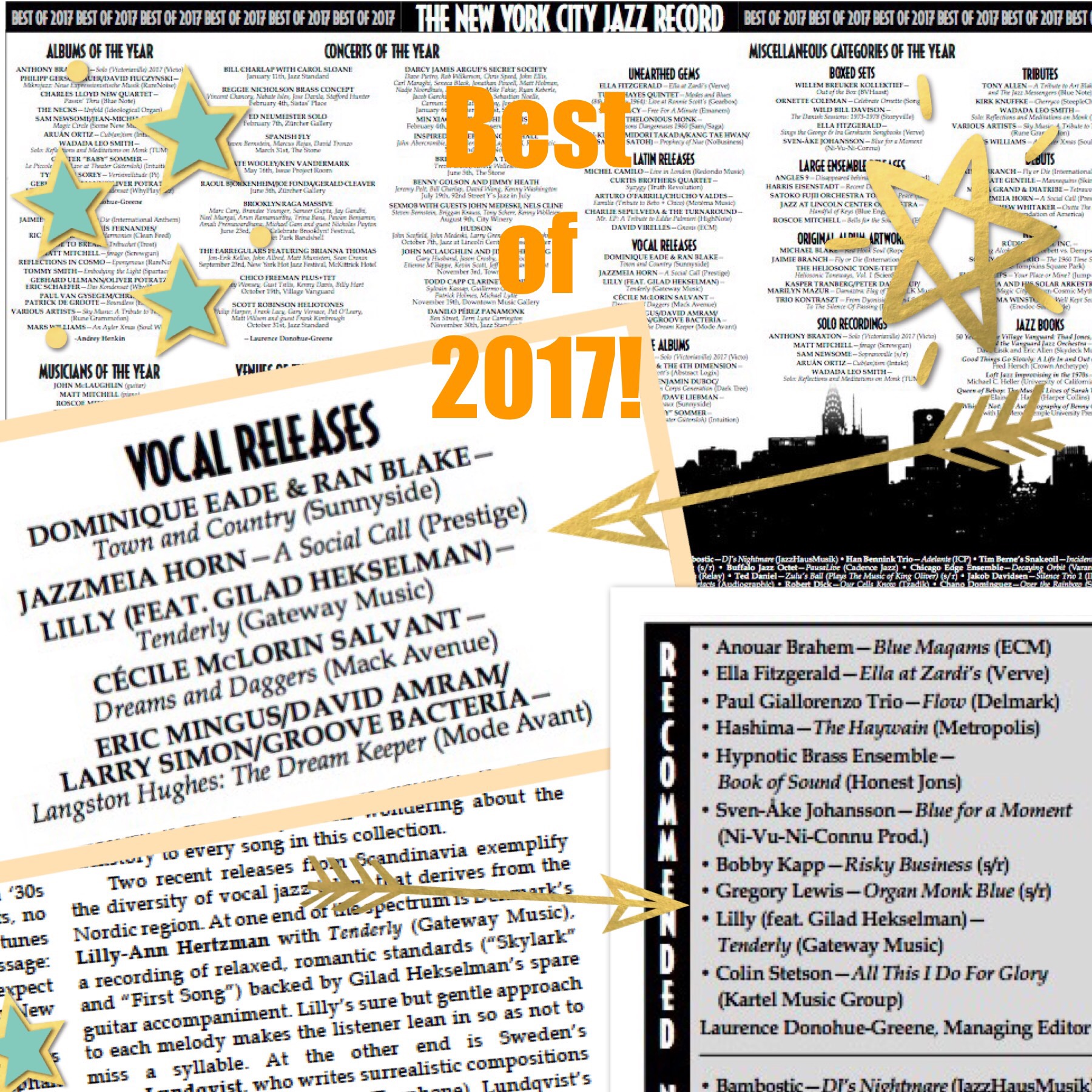 Dear all!
?✨ An almost magical and star spangled take-off and journey so far of my new album, Tenderly (feat. Gilad Hekselman) ends on a really high note that I had never even dared dream of a month ago, when I released it on Dec 1st 2017! I am SO happy and grateful .. and also a little proud as well, to announce that The New York City Jazz Record has chosen to give the album 3 really good gifts in their new January 2018 Issue! 

?1) It has been included as one of their TOP 5 "BEST VOCAL RELEASES OF THE YEAR!" ✨???✨ So.. I am now able to see my name and the album title, Tenderly (feat. Gilad Hekselman), surrounded by 4 really amazing jazz singers in this category.. a couple of them being from major labels and Grammy awarded/nominated! ✨☺️✨ 
? 2) And as if that was not enough, I was notified yesterday that it has also been included in a list of their ✨RECOMMENDED NEW RELEASES✨...and so I found myself being on the same list as the divine queen of jazz and one of my first teachers (though she never knew ;), the one and only...Miss ELLA FITZGERALD !!! ✨????? Wow! 
As a third thing.. ?3) The album was also mentioned in their VOX NEWS column as an example of "..the diversity of vocal jazz talent that derives from the Nordic region" ☺️ 
Oh, my...although, I have known about the first good news for some weeks now, it still feels a bit surreal for me to comprehend all this..including the first 5 star review in Danish music magazine GAFFA on Dec 1st and the last 4,5 Star review in All About Jazz yesterday! Me being a small town girl, living in a small town in the small state of Denmark...having been away from the jazz scene for several years too... or rather, not really having entered it before. 
So, dear all.. I am truly happy, grateful and astonished to let you all know that Christmas tales DO come true! And it doesn't matter how old you are ...☺️   
Best wishes for a very HAPPY NEW YEAR 2018 to everyone and THANK YOU so much for everything in 2017!
✨??????? Lots of love and peace, Lilly ❤️ 
P.S. You can download the new January Issue  and more free monthly Issues as pdf-files here: www.nycjazzrecord.com 
Or.. if you are in NYC you can also pick up a copy at a lot of various music venues around town✨? ???????