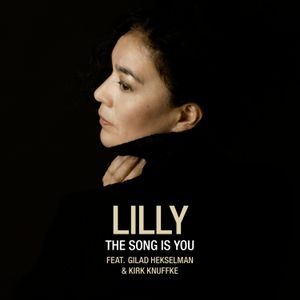 YAY!! It's RELEASEDAY of my new album ::: The Song Is You ::: LILLY feat. GILAD HEKSELMAN & KIRK KNUFFKE . 
It's available on CD+digital via Challenge Records International / trademark Double Moon Records. Listen here: https://orcd.co/bvyexkg 
Two nice album-birthday reviews: 
***** 5 STARS today from Danish GAFFA /Ivan Rod, that a.o. write: ""Lilly-Ann Hertzman has an incredibly good and seemingly natural grip on the songs / ballads. It's as if they're part of her own musical DNA. As if their swing leans up against her own swing. As if her voice is created for them or vice versa. And then it's as if her collaboration with Gilad Hekselman is a perfect match. Her warm vocals snuggle lightly and beautifully up his string playing. And now also up to Knuffke's tone. 
Given that the entire album was recorded in just one day in New York, one must take one's hat off and admire the musicality and virtuosity of the three, their respective, innovative starting point and their ability to collaborate when the record button is activated." 
(Thanks to Google translate 
Read the full review here in Danish: https://gaffa.dk/.../anmeldelse-stilsikkert-smukt... 
And..also, Jazz Thing in Germany are happy: " Once again an album on which jazz standards are sung. But in contrast to some other colleagues, the Japanese-Danish singer Lilly and her two New York accompanists Gilad Hekselman (guitar) and Kirk Knuffke (cornet) show that in this so-called supreme discipline of jazz, the motto should always be empathy, surprise and also another level of interpretation. For when an artist dares to tackle such songs as "My Foolish Heart", "Prelude To A Kiss", "That Old Feeling" or "The Song Is You", he wants to emphasize the substance or essence of the song, but ideally also to make a piece sound not immediately recognizable or old-fashioned. Lilly, aka Lilly-Ann Hertzman, succeeds in this, her versions present h themselves as artistic with a personal expression. Therefore, her interpretations offer an emotionally deep, truthful view, due to which these standards thus become her own songs. "/ Mai 
(Thanks to Martina Weinmar for translation)
Here is a link to the review in German: https://www.jazzthing.de/review/lilly-the-song-is-you/
——— 
I am very happy and grateful to be able to release these songs and I hope you'll enjoy them as much as I enjoyed recording them that fine first day of August 2019 in Brooklyn, New York with a bunch of fine human beings.. a couple of them being truly amazing musicians too. 
Much love, 
Lilly 
______________ 
Recorded, mixed and mastered by Michael Perez-Cisneros at 
Big Orange Sheep Studio, Brooklyn, NYC 
Thanks a lot to everyone involved in making this release a reality: 
First and foremost a very warm and big thank you to Gilad and Kirk. For the spirit of joy, playfulness, openness and dedication that I was so fortunate to experience when recording this album with you fabulous guys! I am so happy and grateful for that, and for all the creative musical gifts both of you so generously shared with me.
Mr. Awesome, Michael Perez-Cisneros. Big Orange Sheep Studio. 
Patricia Frazao/ZenProduction for nice albumcover and Gulnara Khamatova for studio session photos. 
Volker Dueck/ Double Moon Records & Martina Weinmar/ MaWeMarketing, 
Boudewijn Hagemans & Sander Vos at Challenge Records International.